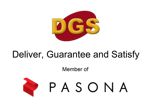 Procurement Section Chief (F&B / Japanese Restaurant)
IDR 14,000,000 – IDR 17,500,000
Ditayangkan pada 1-Sep-23
Keuntungan
Competitive salary & bonus provided

Development along with bigger aim to become the top organization

Sustainability, security, and stability in a large organization
Deskripsi Pekerjaan
Good Day!
Our client Top Japanese Kaitenzushi Restaurant (conveyor belt sushi restauranat) in Japan, currently will developing branches in Indonesia and target to open more than 20 restaurants all around Indonesia in 5 years ahead and looking for Product / Procurement Section Chief, who will charge for the development of restaurant menu based on Japan Standard and local customer taste. Please kindly see below for the details:
JD :
Overall menu planning and management: yearly standard menu planning, special product development, monthly new product planning (main products are prepared in Japan)
New product development and presentation: Develop new products using local and overseas products (including price-setting proposals)
Product naming: Mainly local products, even imported products from Japan will be renamed if local people find it difficult to understand.
Purchase business negotiation: Purchasing not only food ingredients, but also non-food items such as equipment, packaging materials, and consumables (office supplies, etc. will be managed initially)
Price negotiation: Regularly conduct price reduction negotiations for all products, or suppress price increases
Cost management: Adjust the amount of food on the premise of PL budget control, and maintain an appropriate balance between customers and stores in line with the above price negotiation situation
Warehouse management: Appropriately maintain the inventory of products stored in the warehouse, regardless of whether they are imported ingredients or local products, and manage them so that they do not run out of stock, deteriorate in freshness, or expire.
Commercial distribution management: Establishment of routes for products to reach stores (mainly domestic) Management of logistics with minimum cost
Construction and operation management of ordering system: ID registration of all product charts, registration of work-in-progress, etc., linking logistics relationships between stores ⇔ traders ⇔ head office *Collaboration with IT personnel
Training and management of subordinates (There is no Subordinate at the first)
Requirement :
Bachelor's Degree from any major
4 years experience in Restaurant / F&B Product Development and procurement/ have the above experience or knowledge
Experiences in handle fish or sushi material
Good command of English
Japanese ability will be an advantage
Good leadership and team control
Benefit :
Competitive salary
There is a pay raise system according to the effort, achievements, and contribution
There is a sense of sustainability, security, and stability in a unique and large company
They are considering conducting training/lectures by Japanese employees at the time of first boarding, and they will do their best to support everyone motivated with the motto of human resources development.
There is also a plan of practical training in Japan according to the position and length of service.
They aim to be the top brand in the kaitenzushi/conveyor belt sushi industry that makes not only everyone but also their families and friends feel proud to work at this company.
Bonus Provided
Others
Should you be interested and fit the requirement, please feel free to apply!
Informasi Tambahan
Sarjana (S1), Diploma Pascasarjana, Gelar Professional, Magister (S2)