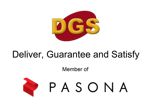 IDR 20,000,000 – IDR 25,000,000
Ditayangkan pada 30-Aug-23
Keuntungan
Sense of sustainability and safety in big scale organization

Multinational project exposure
Deskripsi Pekerjaan
Good Day!
Our client A Japanese Leasing company, is currently looking for a Legal and compliance Manager who will involved in leading the team in the financial/leasing business compliance matters, please kindly see below for the details:
JD :
Make sure the Business process complies with the regulation, including reviewing the regulations and managing consultancy with the regulatory body (OJK).
Legal assistance and advisory.
Monitoring and preparing documents related to government agencies and regulatory organizations such as APPI and OJK and guaranteeing adherence to several statutory obligations.
Advise management on the company's compliance with laws and regulations through systematic reports.
Review, and interpret of Company's documents (agreement, business license, and other documents as the company's requirement.
Manage and coordinate checking on new regulations establishment and ensure all related departments are well informed and comply with prevailing regulations and internal rules.
Supervise the performance of compliance programs and compliance annual plans by compliance staff to ensure the achievement of completion targets and quality.
Requirement:
Minimum Bachelor's Degree in Law / Economics / Business
Experiences in the last 8 years in the field of Legal Compliance Management in the leasing company (5 years as Manager or 8 years as Assistant Manager).
Experiences in Japanese companies will be an advantage.
Having PERADI SPPI Certification will be an advantage
Good communication skills and analytical thinking.
Benefit :
Competitive salary
Sense sustainability and safety as a member of one of the biggest Japanese Financial Organizations
Multinational project exposure