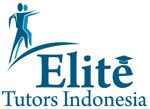 Economics Tutor (IB and Cambridge Curriculum)
IDR 4,000,000 – IDR 5,600,000
Ditayangkan pada 31-Aug-23
Keuntungan
Overseas travel as the performance bonus.

Highly support the tutor's teaching creativity.
Deskripsi Pekerjaan
Job Description
1 to 1 tutoring for economics related subject to mostly IBDP, A-Level, IGCSE, and O-Level Prep.
The tutoring should be delivered in English.
Required
Min. Bachelor degree.
Min. 3 years of experience in the similar position.
Welcome
Experience to have a professional relationship with affluent people.
Min. IELTS 7.0 or equivalent.
Graduated from Business, Economics, or Management major.
Note
The first placement will be online tutoring by using Zoom.
The tutor will be assigned for a specific 1 year program.
Disclaimer
The above monthly salary is calculated based on historical data on our company. It mays be different based on the available project and tutor's performance.