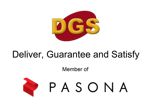 Area Manager (Retail F&B)
IDR 12,000,000 – IDR 16,000,000
Ditayangkan pada 31-Aug-23
Keuntungan
Multinational working culture
Deskripsi Pekerjaan
Hello! Our client, a Japanese F&B company (sushi resto with conveyor belt concept) that will be launching its branches in Jakarta, is currently opening a job position for:
[Position]
Area Manager (Retail F&B)
[Requirements]
Having solid experience of at least 5 years in the F&B industry.
Have experience managing at least 5–10 stores for their daily operations.
Good leadership, teamwork, problem-solving, and communication skills.
Able to speak English is a plus.
[Job Details]
Oversees the daily operations of multiple restaurants, so must be able to delegate tasks and responsibilities to their team members.
Creating a positive work environment through well-planned training, assistance, etc. for team members.
Identifying areas for development and improvement within their area
Ensuring quality control of products and customer service satisfaction across their area
Managing technical matters in order to keep up with the latest trends requires being familiar with things like social media marketing, online ordering systems, and digital payment apps.
[Employment]
Permanent after 3 months of probation